Throwing a themed party is a great way to make sure your party is memorable. Choosing an exciting theme can elevate your event, allowing you to get creative. A good example is a Halloween party; turning the function room into a haunted house, as well as requesting guests come in horror style costumes creates a recipe for a perfect Halloween party.  
Of course, other variables like delicious food and good company are what really make your event memorable, but party themes are an interesting way to differentiate yourself. Here is a guide to the top ten themes for parties.  
1. Casino and Las Vegas
As a party theme, a casino style party is one of the most enduringly popular themes. Requesting your guests show up in floor length dresses or a suit and tie combo is a great way to set the tone of the evening and create the right atmosphere. Having a large variety of casino games set up around the venue, from poker to snap means that everyone will have something to participate in.  
Handing out little casino chips at the door and inviting guests to take part in the card and roulette games set up in the room is a great way to get the ball rolling. Giving the guest with the most chips left at the end of the night a prize will end the night on a high note.   
2. The Great Gatsby 
In Fitzgerald's work 'The Great Gatsby', the incredible parties of the roaring twenties have been immortalised. With twenties gangster suits and flapper dresses the style of the clothes unmistakable.  
With champagne or prosecco, feather centrepieces and gold decorations, a Great Gatsby theme is all about luxury. Hiring a jazz band for the event is another amazing way to pay homage to the decade. 
3. Black and White Ball
Compared to the shimmer and sparkle of some of the other themes a black and white ball is quite restrained.  
It is a classic theme due to its simplicity and elegance. It's a great way to create interest in a party without breaking the bank. Most men and women have at least one black or white outfit that would be suitable, so guests won't need to break the bank on a new outfit to attend.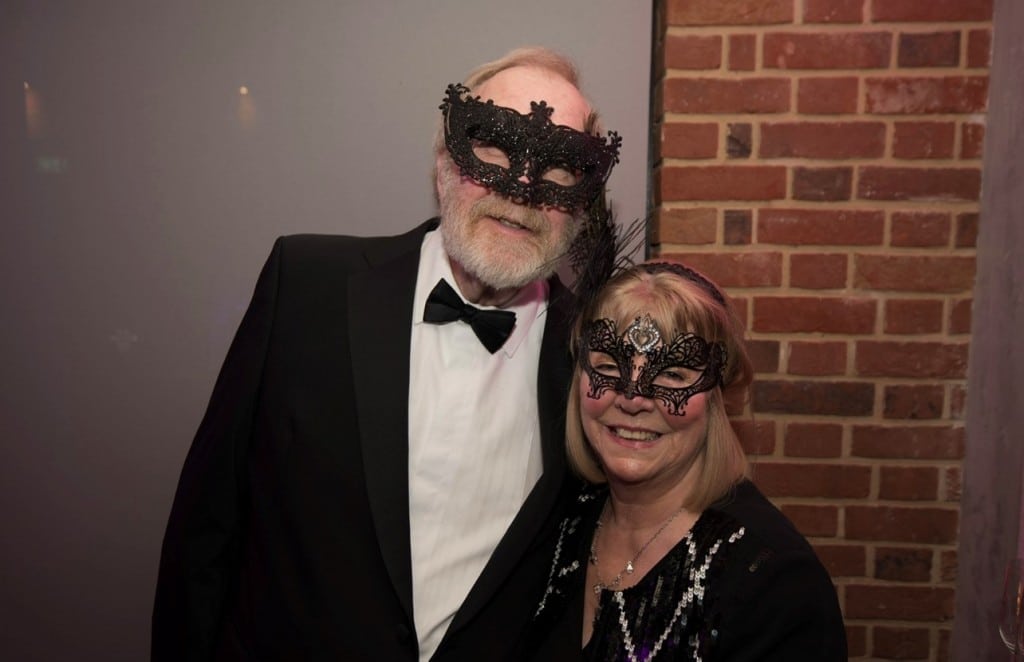 4. Hollywood
From Ginger Rogers to Frank Sinatra, old Hollywood glamour is always a winner. Giving guests an excuse to do some amazing makeup looks and drag out an old suit and tie from the bottom of a cupboard, is always cause for excitement.  
Setting up a red carpet in front of your venue and photographing guests as they walk in, creates a great memento of the night and really sets the scene. Having a photo booth and a screen with black and white films playing, are other great activities you can use to set the tone of the evening. 
5. Costume Party
A costume party is a classic way to create a fabulous evening. By altering the costume theme slightly like a party filled with well-known literary characters, famous movie characters or Halloween horror movie villains you can create wildly different events. This is an adaptable theme that allows your guests to let their hair down. 
Having a contest for prizes like best costume, best DIY costume or most interesting concept is a great way to get people involved. Dances and meals which are fairly normal party faire gain a whole new dimension when you are spending the evening with Chewbacca and Superman. 
 6. Glow in the dark
Glow in the dark themed parties are a fairly new concept. Body paints that glow under backlight are painted on old jeans and t-shirts to create an amazing atmosphere for dancing. Having glow sticks and bright neon face paint is a fairly ridiculous get up in the light of day, but for a dance party it's a great way to light up the evening.  
Hiring a make-up artist or face painter to paint guests faces in glow in the dark paint is a great activity, but make sure to warn your guests to wear clothes they won't mind painting all over. 
7. Disco
Disco is an iconic style from the 70's. Having your guests turn up to the party in bell bottoms, white suits, halter tops and lots and lots of glitter makes for an eye watering combo. Psychedelic colour schemes and disco balls will set the scene for an incredible night. 
If in doubt about the music put on the Saturday Night Fever soundtrack – it's an iconic film that has some of the most famous disco hits.  
8. Galaxy or space theme
Long ago in a galaxy far far away…. 
With sci-fi films like Star Wars, Star Trek and the Guardians of the Galaxy exploding in popularity in recent years, a space themed party is an increasingly popular way to celebrate.  
Activities such as Laser tag while in teams named storm troopers and the resistance is a great way to start of the evening. Competitions for trophies like 'most dramatic death' and 'worst shooting' are another great way to get people laughing.  
9. James Bond
The stunning dresses and tuxedos that are archetypal of 007 make for a wonderful party theme. The glitz and glamour of the archetypal secret agent is suitable for everyone. Martini's shaken not stirred for the guests and plenty of low light creates the perfect ambiance.   
Having a quiz using Bond movie trivia is also a great way to get everyone interacting as they compete in teams for a prize. Screening a favourite Bond film for the guests to watch is another way of creating the perfect cinematic atmosphere.  
10. Enchanted Garden
Filling the terrace with greenery and hosting a party in the garden is a staple of the Covid 19 lockdown. With guests still banned from the house, hosting them in the garden is the only alternative. With barbeques and drinks outdoors, a garden party is an excellent theme to try, especially with the spring sunshine peeking through.  
While the impending appearance of rain can be a worry, setting up a marquee is a great way to ensure your guests (and the barbeque) don't end up drowned. 
Salomons Estate has a variety of different function rooms and wonderful outdoor space, perfect for themed parties available for you to book. If you are currently looking for a venue in Kent, then be sure to contact us here.