WEDDING VENUE TUNBRIDGE WELLS
Salomons Estate provides a stunning backdrop for your personalised
celebrations.
IF YOU ARE CURRENTLY PLANNING YOUR WEDDING AND LOOKING FOR A BEAUTIFUL VENUE WITH 36 ACRES OF BEAUTIFUL GARDENS, WOODS, PARKLAND, THEN SALOMONS ESTATE IS THE PERFECT LOCATION FOR YOUR SPECIAL DAY.
With the opportunity to have both your wedding ceremony and reception at the Manor House, we pride ourselves in offering a personalised and bespoke service, working to the very highest of standards. We guarantee you will be the only wedding party at the Estate, enjoying our picturesque grounds and charming views.

Couples also benefit from the services of a dedicated wedding host, who will assist in the coordination and delivery of your wedding celebration. Your wedding host will assist in offering supplier recommendations, from florists, photographers and entertainment options.

Our food and drink is locally sourced by our in house kitchen team. Able to accommodate any special requests, we offer a complimentary food and wine tasting ahead of your celebrations.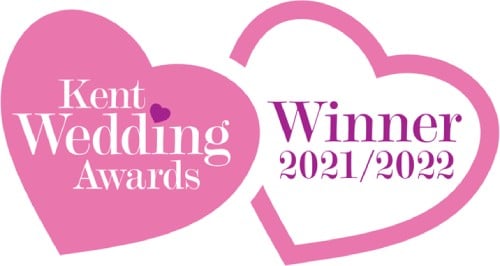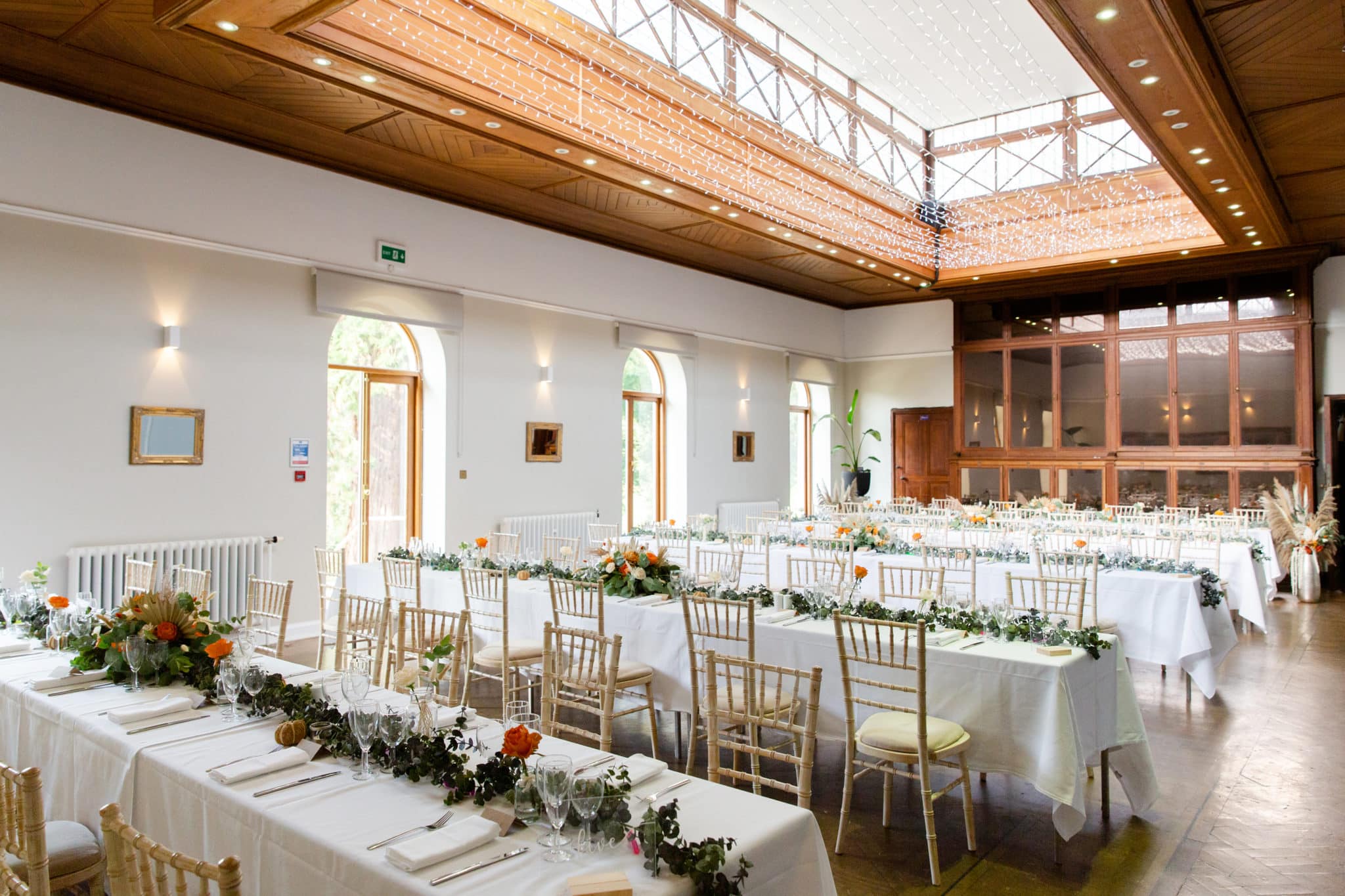 The Drawing Room provides a traditional backdrop for your wedding ceremony and wedding breakfast. Seating up to 100 people, it provides a spacious setting for your special day.
Room Type:
Medium sized ballroom & event space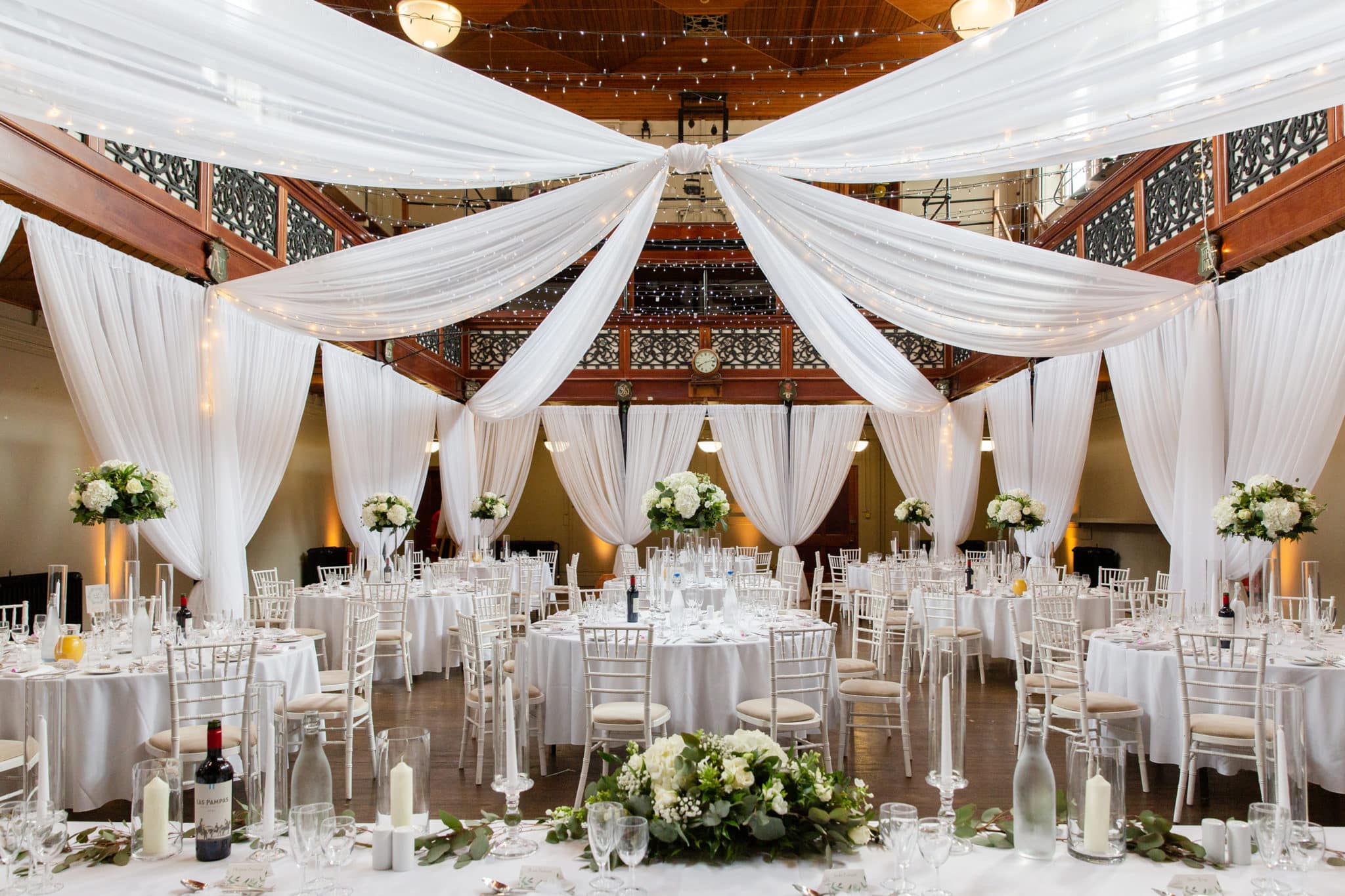 THE VICTORIAN SCIENCE THEATRE
The grand Victorian Theatre is ideal for large wedding parties of up to 230 and can host all aspects of your big day, from the ceremony to the evening reception. With its large stage it provides a grand space for all your nuptials.
Room Type:
Very large science theatre and event space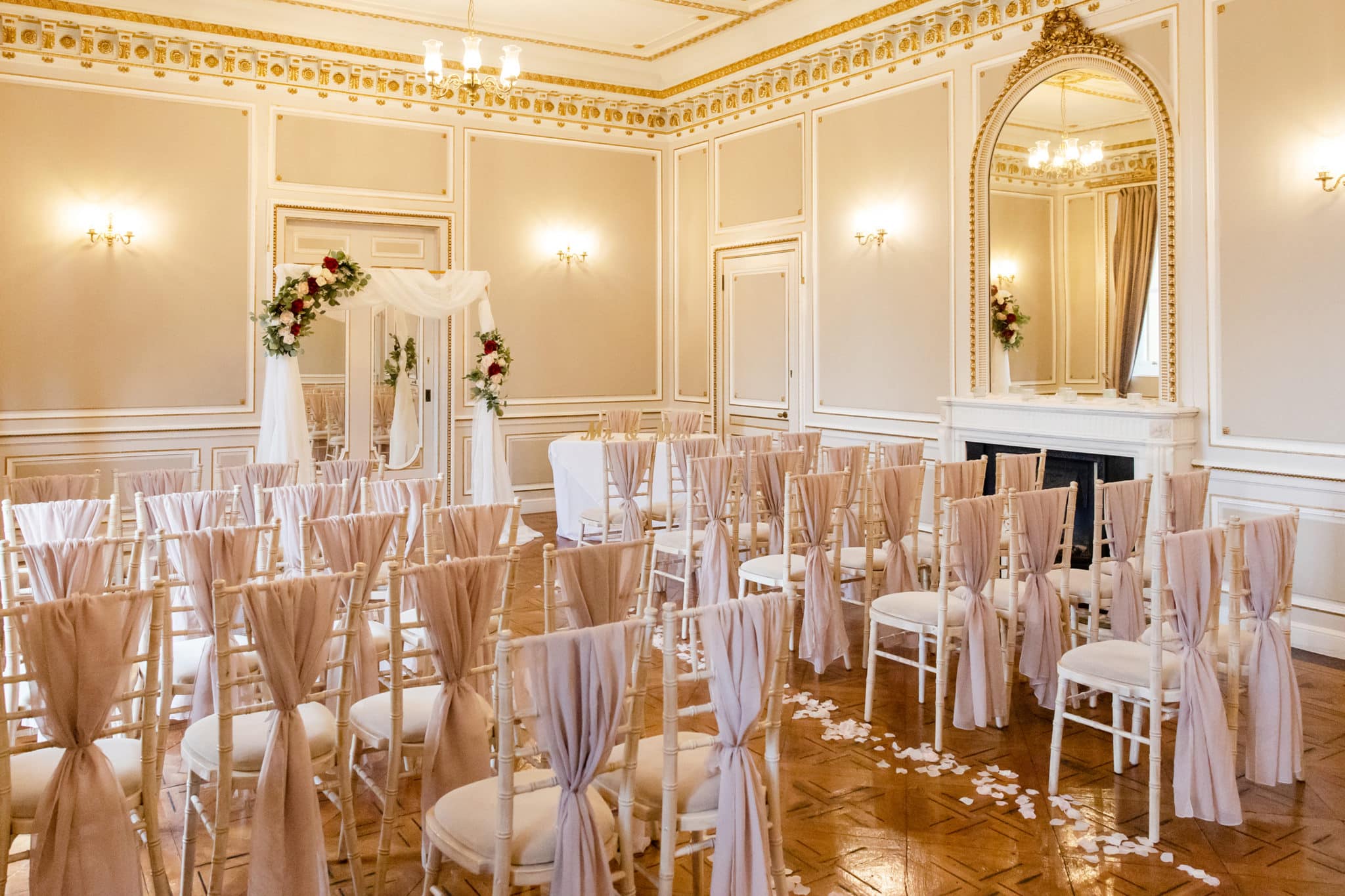 The elegant Gold Room can seat up to 65 people for your ceremony including the option of have your ceremony on the outdoor terrace, which provides an unforgettable setting for you to exchange those all-important vows.
Room Type:
Intimate luxury space with outdoor terrace access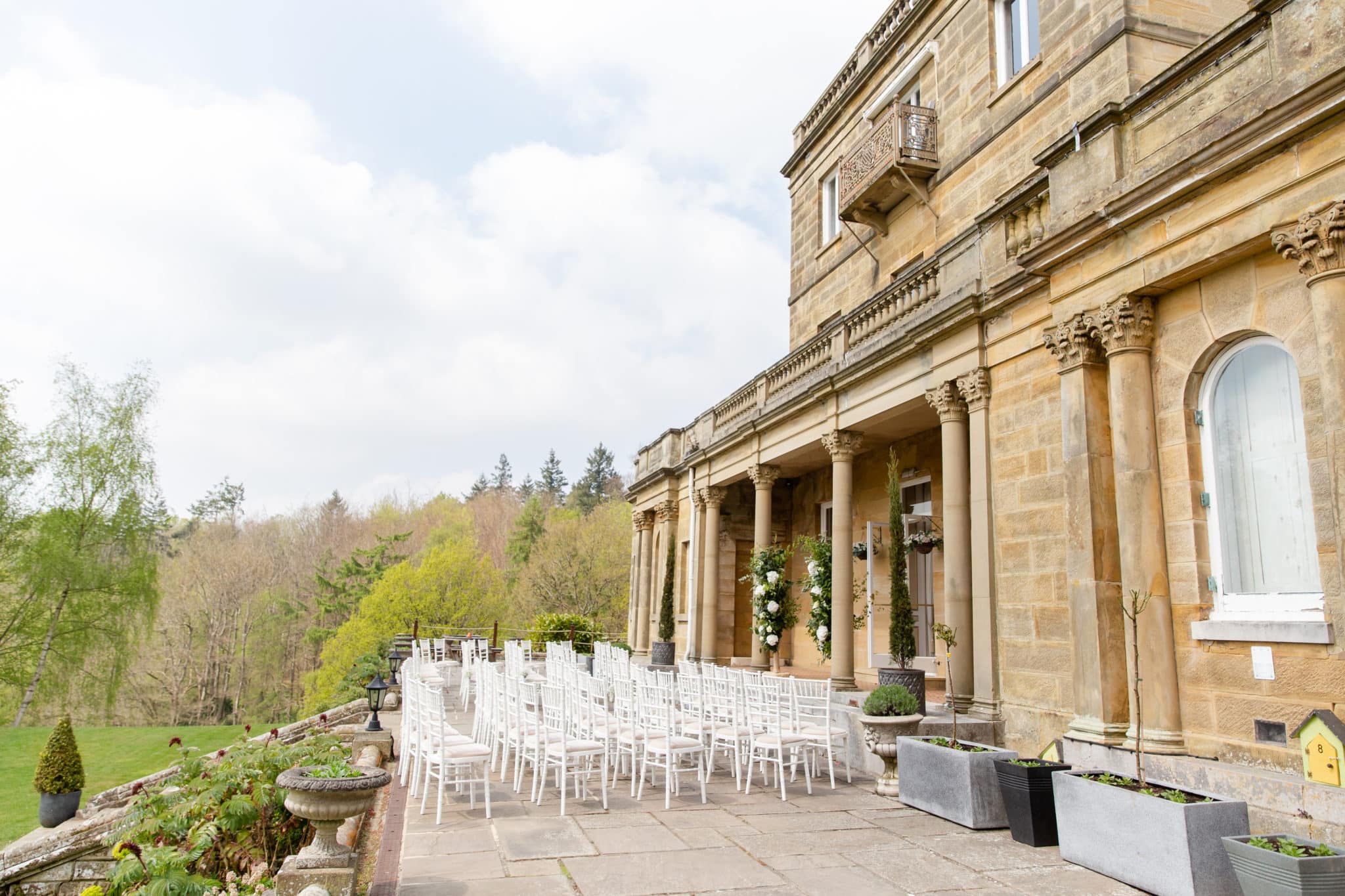 The south facing Terrace provides a picturesque backdrop for your ceremony. Seating up to 140 people, it provides a perfect setting for your special day.
"It the most unforgettable and beautiful day that we could have asked for. We felt cared for every second and our guests had nothing but kind words to say about all of you. We want to thank Salomons as a whole (including Courtney) for the way you all dealt with the postponements. You made an incredibly difficult situation (twice!) that little bit easier and that is a huge thing. Your support, professionalism and friendliness throughout will not be forgotten. We still feel very emotional and overwhelmed by the whole day and just wish we could experience it all over again! So overall, this is just a huge thank you, thank you, thank you for providing us with the best day of our lives" - Tilly & Matt
"Where do I even begin with Salomons Estate? The most beautiful wedding venue with stunning grounds, great food and perfect entertainment spaces! From the moment we first contacted them to the days after our wedding the events team (Erin and Fiona in particular) were incredible - they paid attention to every small detail and exceeded every expectation we had for our big day. We couldn't recommend them more!" – Mr & Mrs Fetti
"Naomi and I just wanted to say a huge thank you to the Salomons team for making our day so special, we really appreciate all the effort you all put in to make it all happen how we wanted. Everything looked amazing and we have had so many comments about how good the food was. We were so happy to have our wedding at Salomons, really we could not ask for anything more. The timings worked really well, people appreciated the flow of the day and how it was all so well organised. Thanks again, we would recommend Salomons to anyone." - Mindy & Naomi
"The process was seamless from start to finish. Lauren was our wedding host and was incredible - we had a thousand questions on the lead up and nothing was too much. She responded quickly and put our minds at ease with everything we didn't know. Neither my husband or I had to lift a finger all day, and there was no worry about if things would be right - we were confident that it would be!" – Kirsty & Owen
"Our wedding here was beyond amazing in every way. The grounds and interior are stunning, the food amazing and the staff are professional, efficient, organised, super helpful and friendly. Fiona who was in charge of organisation for us was with us from beginning to end with support and help (a challenge for her I am sure with all the covid wedding complications) but she made everything perfect. We could not have had a better day and all 195 of our guests said the same. Thank you so much to everyone at Salomons and in particular Fiona." – Mr & Mrs Thompson
"Could not have picked a better venue to get married in! Fiona our events planner was amazing, not only full of passion, but she was also very professional and went above and beyond to make our day special. Nothing was too much to ask to the point that she was driving us around in a golf buggy and giving her coat to my wife in the rain just to make sure we got the shots we wanted!" – Billy & Beth
"We had our wedding at Salomons and from start to finish we couldn't recommend it enough, such a beautiful venue and the team were more than helpful and friendly to all our guests. Fiona led her team brilliantly making the day stress free and able to run so smoothly. The set up for the ceremony was perfect, the food was delicious and the bar staff were excellent during the reception party. We are so pleased we chose Salomons and couldn't have wished for a better day!" – Mr & Mrs Marks
"Lee and I would like to thank you for your amazing support throughout the planning and execution of our most special day. You, along with the rest of the staff at Salomons were beyond helpful and made our wedding day all we could have asked for and more. Again, thank you so much from the bottom of our hearts." - Mr & Mrs Parsons
"Our wedding was changed four times over the course of COVID and every time Salomons were so accommodating and there to support us every step of the way. They replied to emails promptly and never made us feel like we were asking too many questions. Amazing staff that made you feel like the most important people in the world – Courtney and Fiona are incredible women who went above and beyond for us both." – Sophie & Matt
"From start to finish Salomons have been nothing but amazing. We planned the wedding in only 6 weeks and they accommodated all of our wishes. Courtney was fantastic to start our journey with and then passed us onto our wedding co-ordinator Erin, who was just as fantastic. The day couldn't have run any smoother and they made all our dreams come true. Both mums are recovering from broken legs/ankles and Erin was so good moving them around on the golf buggy up and down from the cottage. Beautiful location, fantastic team and our perfect day will always be remembered there." - Hannah & Matt
"We got married at Salomons Estate in June 2023 and it was incredible! We literally have zero negatives to write. Everything from Fiona and her team was brilliant. The care and attention to detail, the day went smoothly and perfect. All of our guests commented on how delicious the canapés and food were. We will 10000% be returning for our anniversary. Thank you everyone at Salomons for ensuring we had the most perfect day." - Kathryn
With ample complimentary parking available, we also have 47 bedrooms on site, along with self-catering options of The Gatehouse, The Cottage, and four recently refurbished Garden Cottages, for the added convenience of guests. Take advantage of our Luxury Bridal Cottage equipped with a roll top bath, romantic courtyard and a private car parking space.


Whether you require an outdoor ceremony, a winter celebration or a whirlwind wedding – Salomons Estate is able to provide a bespoke offering, tailored to your individual requirements.


At Salomons Estate we can hold civil ceremonies, civil partnerships and everything in between, with the option of outdoor ceremonies held on The South Facing Terrace.


Salomons Estate provides a stunning backdrop for your personalised celebrations. Download our recommended supplier brochure here.