Happy National Wedding Month! Did you know from December to February over 40% of engagements a year take place? If you are one of those people who have contributed to the statistics this year, Salomons Estate say's a huge congratulations!
Recently we have had a Q&A with one of our previous brides from Salomons Estate, we loved having Laura and Alex share their experience with us!
See our beautiful bride Laura's Q&A here:
How did you meet?
We met on Tinder! We started talking and hit it off straight away, we talked every day for a few weeks and then finally decided to meet just before Christmas. We had three dates in three days and just knew immediately that there was something really special there. Alex then went back to his hometown of Derby for two weeks over Christmas and we spoke on the phone every day after work into the early hours, despite my having to get up early for work. He came back to London on New Year's Eve so we could spend it together (much to the dismay of his friends!) And that was it, I stayed with him every night from then on and we officially moved in together after just four months. It was a complete whirlwind and we've both never been happier.
Tell us about the proposal.
This one is all on Alex. He planned the proposal for 4 days before my birthday, so the whole thing could be masked as a 'birthday surprise'. We woke up in the morning and made bacon pancakes, our favourite. He then got me into the car, with no idea where we were going and put on a specially made playlist of all my favourite songs – including the ones he hates! We then arrived at a spa where we spent the morning relaxing and enjoying each other's company. And then on to my hometown to meet my sister and get my hair and nails done. We popped home, quickly got changed and then headed into London where we had dinner and then onto a bar for drinks. Alex had booked a table at Bar Topolski so when we arrived, he gave his name and we were directed through a set of closed curtains into a private room. As soon as we walked through the curtain a choir began to perform Cuckoo by Benjamin Britten, our favourite piece of music from our favourite film. They then performed a piece called Snowflake which Alex had written for the occasion and he got down on one knee and proposed. The choir erupted in cheers and then went on to perform another piece by Britten, which I watched with a rather wet face! We were given complimentary champagne and just when I thought the surprises were done, all of our family and friends started piling into the room, it seems everyone, barring me, had known for months!
Why did you choose Salomons Estate?
With an August wedding and hopes for good weather, we needed somewhere that was beautiful both inside and out. We arranged to view Salomons and were immediately in awe of the spectacular surroundings and the friendly and welcoming nature of the staff. Our wedding coordinator at Salomons was so accommodating and really made us feel like we were in full control of our special day. It was the perfect fit for us right from the start.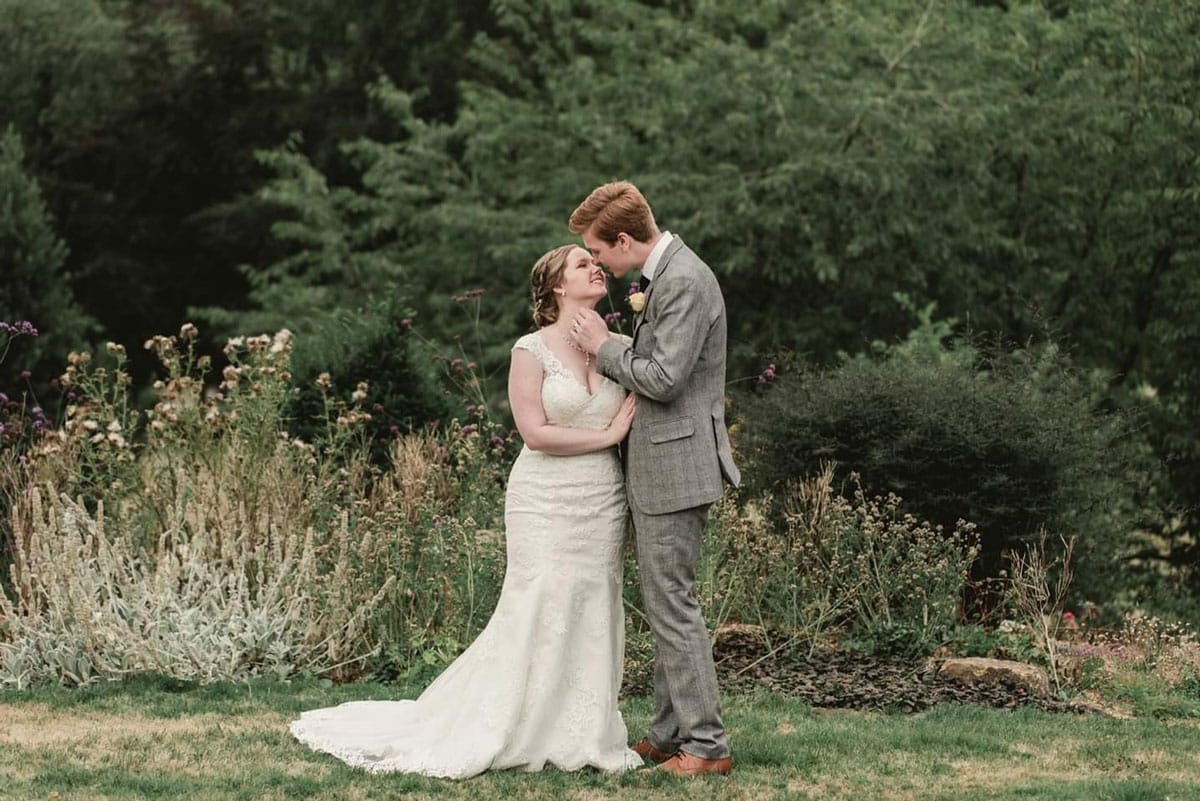 What was the theme and colour scheme?
Our theme was loosely based on Wes Anderson films, full of woodland themes and quaintly quirky details. Our colour scheme was pale blue with a yellow trim – the colour scheme for Moonrise Kingdom, our favourite film.
Tell us about the dress.
My dress was actually one of the first that I tried on, although I didn't buy it at the time! It just seemed wrong to buy on the first trip so I walked away from it. I tried on dresses after dresses and just kept going back to the photos of the original dress – Francesca by Anna Sorano. It was a beautiful fitted dress that flared out at the bottom giving rise to a stunning train. The lace detailing was exactly what I was looking for. I finally decided that I wanted to try on the dress again but it was out of stock all across the country! I waited and waited, certain that this would be the one and when it finally came back into stock, I arranged to go and try it on immediately. As soon as I put it on for the second time, we knew it was The One.
Where did you hold the ceremony and what did you like about your ceremony space?
We held the ceremony on the terrace at Salomons. We had the beautiful listed building as our back drop and we got to look out at our guests with the stunning grounds behind them. The terrace is graduated so it's almost like a built-in stage, giving your guests the perfect view. The large pillars on either side of where we were stood really set the stage and made for fantastic photos.
What music did you walk down the aisle to, did it have a special meaning?
Alex and I decided to go for something a little unconventional for the music choices. We decided not to go for traditional and just stick to music that we enjoy.
I walked down the aisle to First Day of My Life by Bright Eyes. The lyrics are so beautiful and so true to our relationship, it made us cry the first time we heard it.
Our bridesmaids walked down the aisle to Banana Pancakes by Jack Johnson.
How did you feel?
The whole day was such a flurry of emotions. From the moment I woke up to the moment I went to bed the best emotion to describe it was elation. I married my best friend that day and it was the best feeling in the world, and to be able to share that with our family and friends made it all the more special.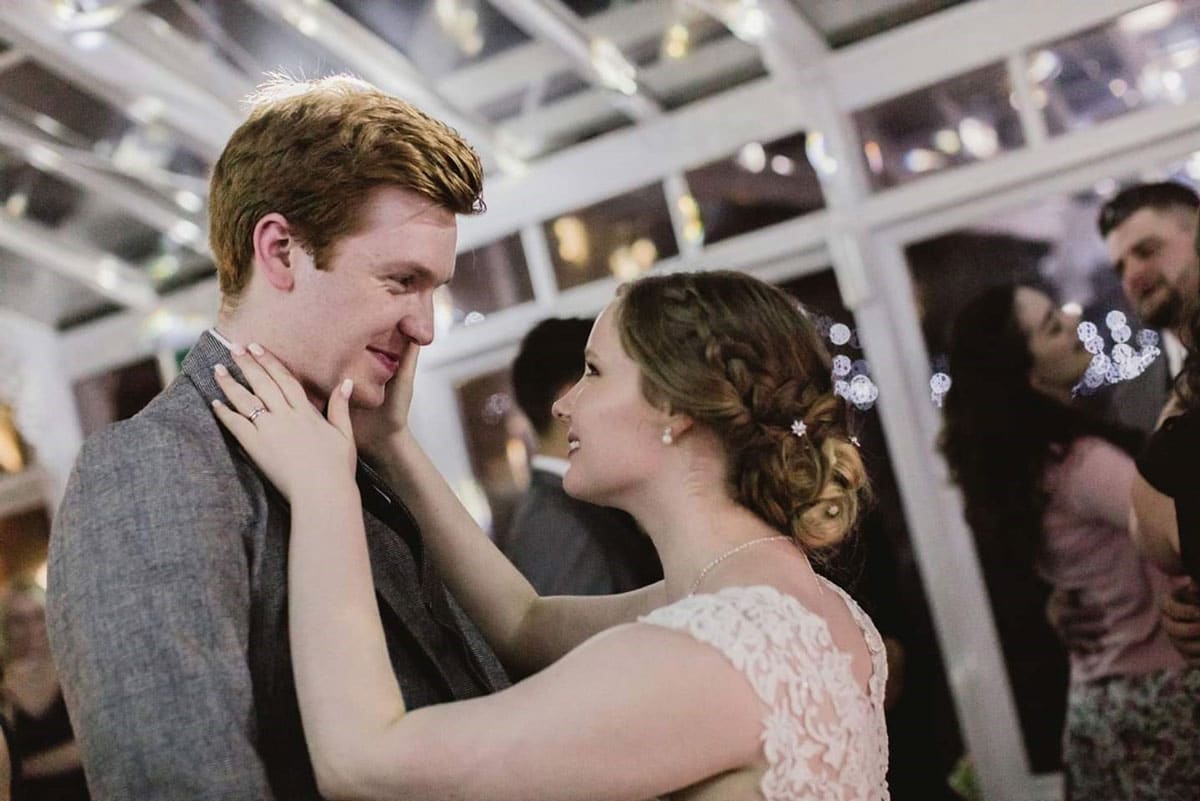 What was your favourite part of Salomons?
It has to be the grounds, hands down. The whole place is just so picturesque, it made for the most incredible photographs – our photographer said it was her favourite ever venue to shoot at! The immediate grounds are stunning, but as you explore a little further you just keep finding little scenes that are perfect for intimate couples photography, it's an amazing place.
Photographer – Tali Steele
For more information on weddings at Salomons Estate please call us on 01892 629328