With the lockdown protocols mostly over, a new wave of festive cheer is taking over the nation, with many venues setting up events and exciting new activities for the first time in a few years. With public spaces opening up there are now more options than ever for families wanting to enjoy the festive season. From attending pottery workshops to make a Christmas gift for your family, to going out to watch as the Christmas light are put on, there are so many ways for you to participate in Christmas events and make this a truly jolly season.  
Christmas is a fantastic season for arranging outings and activities, with so many events being organised all over the country, from sleigh rides to beautiful Christmas lunches served at restaurants. This post will list some of the best activities for families to enjoy together.   
Dining with Santa
Dining with Santa is a fantastic activity for the whole family to participate in, whether you are having a wonderful breakfast with Santa coming to the table for some early morning fun or a wonderful dinner experience with a gift from Santa to end the evening. Eating out with children can sometimes be a stressful experience, especially if you are the only group with young children in the restaurant. Events like these are specifically moulded to cater to young families so you can relax and enjoy the experience.   
Here at Salomons Estate we offer a wonderful dining with Santa experience for the whole family to enjoy.  
Ice Skating 
Ice skating is a very popular winter activity with many rinks popping up around the country during the winter season. Perfect for fun family trips, heading out in the evening for an ice skating session followed by a meal can help make the perfect weekend away. While getting truly comfortable on the ice can take a while, if you enjoy the experience then it doesn't necessarily matter if you look a little inelegant.  
Most Ice rinks will have little stands and sleds which younger children can use to go out on the ice and have fun. Calling ahead of time to ensure you have a support booked for your kids can help ensure you aren't disappointed when you arrive.  
Visit a Christmas Market
There are hundreds of Christmas markets that are set up across the UK. Some have a history going back decades, with many local artists and businesses setting up stalls in the market to make the most of the Christmas season. Buying gifts for friends and family members is a key part of the Christmas experience, which smaller children will often enjoy being involved in. Taking the kids out with you to select gifts can be a fantastic family Christmas activity that will help them feel more involved in the gifting process.  
Some Christmas markets are held indoors, which can be good to enable families to get out of the cold weather; others are held outdoors, so you should wrap up warm in order to visit them.   
Make Homemade Gifts
Making sweet treats such as mince pies or brownies together with your children, and helping them decorate their treats to give as gifts to their classmates, can be a fantastic activity to participate in. Other gifts, such as home-made Christmas tree ornaments or hand-painted Christmas cards, can also be a lot of fun to create.  
Cooking or painting with younger kids can be quite messy, so placing a tarp on the floor or setting up the table in preparation will help limit the amount of cleaning needed once the project is completed.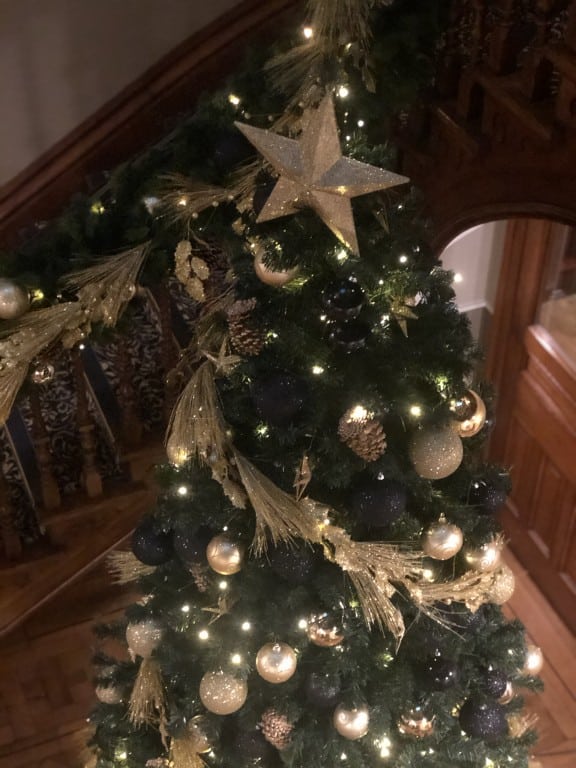 See Christmas Lights
Many cities and towns will set up Christmas lights in the months leading up to the festive season, and going to watch as the lights are lit is often a fantastic experience for the whole family. Often there are late night shopping experiences during those days, so that those who have to work during the week can do some Christmas shopping.  
Watching the lights in town you may feel inspired to do some Christmas decorating at home. From stringing up some Christmas lights to setting up your tree, there are plenty of fantastic options for those interested in creating a wonderful Christmas display.  
Create a Gingerbread House
Creating gingerbread houses is a time-honoured tradition, with many bakeries displaying elaborate creations. While making the entire house can be difficult and time consuming, using a kit to create the shell of your gingerbread house before decorating it, or even just decorating plain biscuits, can be a fantastic weekend activity to try.  
Mixing different icing colours can encourage your children to get creative and to produce some very interesting designs. This is another project that can get quite messy. However, putting down a plastic tablecloth can help you to protect your furniture. 
Festive Afternoon Tea
The tradition of afternoon tea is a British classic. During the Victorian era lunch was held at noon and dinner often took place at around eight or nine o clock in the evening. The Duchess of Bedford felt that this was really too long a wait between meals, and would invite her friends to visit at four for a cup of tea and cake. The fashion took off, and afternoon tea is still served today.  
Traditional afternoon teas are generally associated with the summer or spring, but afternoon tea, served with either tea or prosecco for adults, can be a delicious festive treat. At Salomons Estate our festive afternoon teas have a specifically formulated menu for both children and adults, so that those of all ages can enjoy the experience. 
Visit Santa's Grotto
Visiting Father Christmas is a mainstay of the Christmas season. Here at Salmons Estate we have a beautiful grotto and Christmas treasure trail for our guests to explore. Visiting Santa Claus and talking about which gifts they would like this Christmas is only one small part of the experience. Many other children will be visiting at the same time and can enjoy colouring, gingerbread decorating and a fantastic hot chocolate.  
If you are interested in booking an event with Salomons Estate, then please contact us here. If you are interested in looking through our activities, follow the link here to see the range of Christmas events we have planned.