Your wedding should be a celebration both of you and your partner. There is no better way to celebrate this on your big day than getting creative and DIY-ing some of your decorations. Here are some of our favourite DIY wedding decoration ideas that will add a personal touch to your special day.
Wedding signs
A sign is a really simple but effective way to personalise your wedding day, and it doesn't need to be expensive to look good! They are extremely practical and can help direct your guests around a venue, have a drinks menu written on them or show the order of the day. You could use a second-hand mirror and write your new names on the surface. Chalkboard paint can easily be found on Amazon and gives you the advantage of being able to change your sign throughout the day. On the surface, you could create a collage, made out of photos of you and your partner. If you are artistic you could practice calligraphy and write the text yourself. If not, there are plenty of stencils and even professional calligraphers out there who will do all the hard work for you. Still stuck for inspiration? Here are some ideas:
A "welcome" sign.
The table settings.
A line from a romantic poem or song.
A line from your vows.
A sign showing where your guest book is.
Here at Salomons, we have onsite accommodation with 47 rooms available for wedding guests. Signs are a fun way to lead them from their rooms to the reception!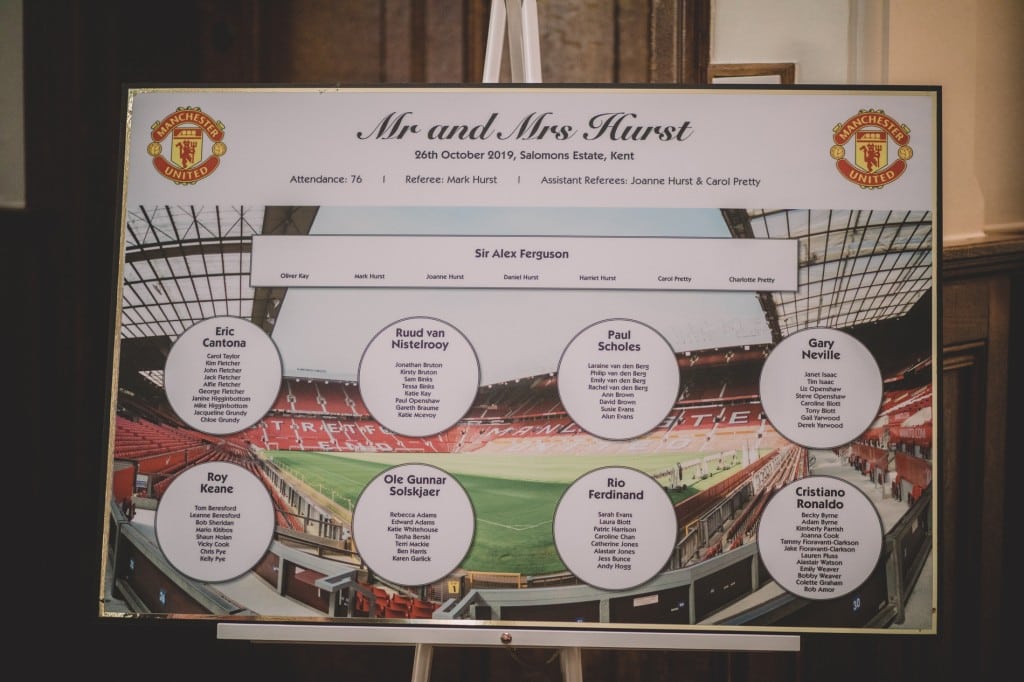 A backdrop
A photo booth is a great way to entertain guests but they can be quite pricy. Instead, you could save money and DIY your own backdrop for you and your guests to take a photo in front of. Depending on your artistic skills you could create a life-size polaroid frame to hold, which will look fun and quirky in photos. You could use flowers; fresh, fake, silk or even ones that you have painted onto a canvas yourself. You could create a soft, romantic background by hanging a twinkling wall of fairy lights, which can easily be bought online.
Provide your guests with costumes and props. These could be bought or made out of any fancy dress items you have lying around at home. There are so many templates online, instead of buying props you could just print off your own. You could leave out disposable cameras, or have a polaroid camera left by your backdrop, capturing your wedding through your family and friend's eyes. You're guaranteed to get photos that you'll be laughing at for years to come.
Here at Salomons Estate, our beautiful terrace is the perfect location for a backdrop, giving you the chance to capture some gorgeous, naturally lit photos.
Centrepieces for the table
With so many different candles, flowers, lights and more, there is no reason why you can't make your own centrepieces. The first thing to check is whether or not your venue allows open flame; if not, you will have to use LED candles instead of real ones. It does not need to look extravagant to look good. You could just purchase some vases and buy some fresh flowers from a florist or supermarket the day before. For a more sustainable approach, if you're especially green-fingered you could even grow the flowers yourself. Play with different heights and colours. Don't be afraid to think outside of the box; you could use old books, globes, vintage boxes or even mason jars. If you're having a Winter wedding, you could use twine to create wreaths out of holly. There are so many different possibilities; think of your centrepieces as a way to show off your personality or chosen theme.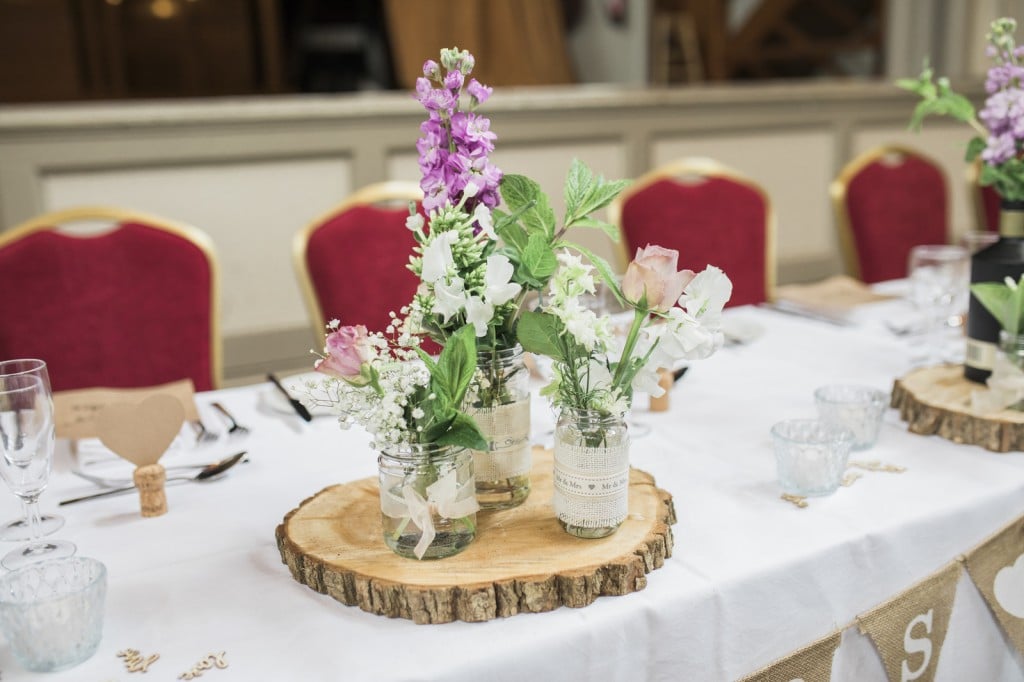 Table numbers
The last thing that you want is guests wandering around the reception, lost and looking for their table. Make your table numbers count with a little bit of DIY magic. You could re-purpose old wine bottles, and write the numbers onto them in chalk paint. If you are planning a rustic wedding, you could write or carve the table numbers onto logs. Scrabble tiles are a cheap but creative way of spelling out numbers or names. Once again, you can make them personal by using pictures of yourself and your partner. These can be as serious or as silly as you like and will act as great conversation starters for your guests.  You could write about the numbers, for example: "11 – Sophie's flat number at university, where we met." Though they are only a very small part of your decorations, don't be afraid to have some fun with them!
Your guest 'book'
When it comes to your wedding, you will be having so much fun that you won't have time to take everything in. Whilst a guest book is a great way to remember who you spent your special day with, there are some great alternatives. You could create your own 'wishing tree', where guests can hang their well-wishes for the couple. They could also create a tree for you; draw or paint a trunk and branches onto a canvas and ask your guests to "leaf" their thumbprints, creating the foliage out of all of the prints. If you are having a travel themed wedding, instead of writing in a book, guests could write their messages on postcards. Or you could print out your own labels and ask them to create a bucket list of places to visit or new things to try.  For something to open on your anniversary, use a jar or a bottle and ask them to leave messages for you to read in a year's time.  Create something that will give your guests the opportunity to get creative and leave you with a unique souvenir from your wedding day.
If you are looking for a wedding venue that will bring your vision to life, in or around Kent, then get in contact with us and we will be happy to provide you with more information on what Salomons has to offer.