For those who celebrate Christmas the festive season brings with it good cheer, delicious food and a lot of wine to be enjoyed throughout the season. While many see afternoon tea as a convenient excuse to drink prosecco in the early afternoon, the tradition of afternoon tea can be far more interesting. With a history dating back to 1840, afternoon tea was originally a meal that was served almost exclusively to those who were a part of upper class society, as a way to meet up, talk and beat their mid-afternoon hunger pangs all at the same time. Whereas afternoon tea initially evolved on a small scale as a casual social event for ladies who were idle during the afternoons, Queen Victoria created the tea ritual which became a far larger occasion, with 'tea receptions' being held for large numbers of guests. A festive afternoon tea takes the British tradition and combines it with the incredible flavours and excitement which comes with Christmas.  
We all deserve a treat once in a while, and Christmas is a fantastic opportunity to treat yourself and your friends to a bit of luxury. With an afternoon tea offering small bite of food rather than a meal that would require more concentration, it offers the perfect opportunity for you and your friends to chat and catch up on what has been going on in your life.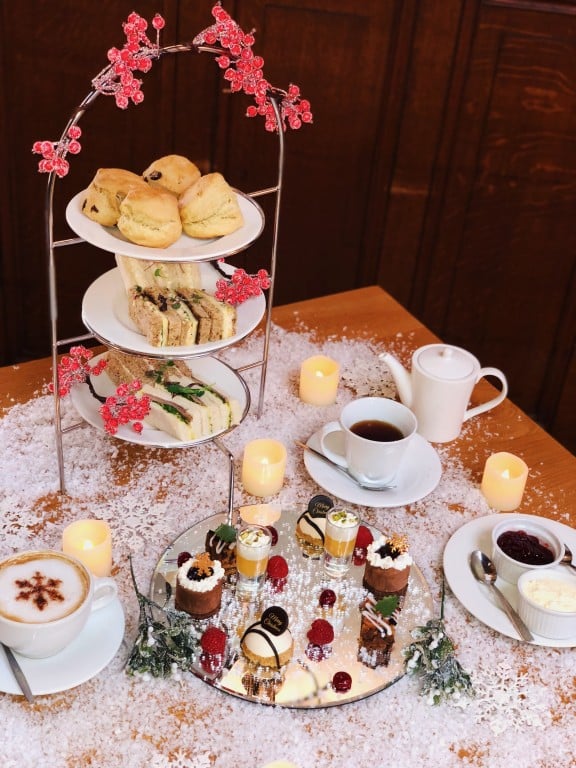 What is Included in a Festive Afternoon Tea?
A festive afternoon tea is made up of tea served with cakes, sandwiches and scones, with a glass of either champagne or prosecco if you are in a particularly festive mood. Our gorgeous afternoon teas are an indulgent way to spend an afternoon, with some rich and tempting cakes along with some lovely sandwiches. When it comes to creating a perfect afternoon tea, the selection that you put together is crucial for its success. The menu of a festive afternoon tea often include a few key ingredients that are traditionally served in an afternoon tea to preserve the history of the dish, while introducing some newer festive flavours.  
Tea or coffee? 
Our festive afternoon teas are served with a choice of either tea or coffee; both of these drinks are classic British drinks served piping hot, sure to warm you up after a walk outside in the cold. Tea has been a British passion for centuries and is perhaps our most famous drink. While coffee does not have the same reputation as a purely British drink, it nevertheless has a long history in the UK, with the first coffee house opening in the 17th century.  
Sweet  
Our afternoon teas include scones with cream and jam, as well as a curated selection of other homemade madeleines and cakes created for you to enjoy. When people talk about an afternoon tea it is the sweet treats that excite people. These delicious treats give our chefs the chance to get creative, making beautiful and delicious cakes. 
Prosecco & Champagne  
A glass of champagne or prosecco is served to accompany our prosecco and champagne afternoon teas, offering a fantastically paired taste of luxury to go along with your afternoon tea. Christmas is a season that focuses on treating your friends and family to a gift or fantastic experiences.  
Savoury  
Our afternoon teas come with a selection of sandwiches to beat your mid-afternoon hunger pangs. While cakes are delicious, they are often not as filling as a bite of something savoury. A staple food since their creation by the Earl of Sandwich, these are often a key element of a lunch on the go around the world. Easy to eat with one hand and perfect for a snack while you are catching up with old friends, our sandwiches are created to accompany and complement our other afternoon tea dishes. 
Good Company 
One of the best aspects of an afternoon tea is that the nibbles provided with the tea are easy to snack on while holding a conversation. Perfect for a meet up with friends in town, afternoon tea offers the ideal opportunity to discuss what has been going on in your lives and plan other get togethers later in the month. The light and whimsical atmosphere of an afternoon tea is certainly very different to a more formal gathering, and offers a luxurious escape from the normal busy day.   
Afternoon tea is at its best when everyone is chatting and enjoying the conversation. Here are a few ways to ensure that you thoroughly enjoy your afternoon tea and keep the atmosphere happy:  
If you are meeting for the first time in a while, playing games such as 'Who Am I', 'Two Truths and a Lie' or 'Pictionary' can be a fantastic way to get the ball rolling and help you and your friends to get into your old rhythm.

 This is especially useful if some of your guests haven't met before, as it creates conversation starters and gives everyone a chance to engage with each other. Using games with a Christmas theme is a great way to keep the mood festive. 

 

Bring some conversation starters written on pieces of paper for you to select from if you are running out of things to talk about. This is a great way to introduce new topics to talk about without losing the flow of the conversation, and is a fantastic way for people to learn more about one another and improve their connection. 

 

Pitching and enforcing a no phones rule can help create a fun and relaxed atmosphere. Bringing a small fabric bag or basket and placing phones in them before the afternoon tea starts helps to rid you of distractions and can help you focus on the here and now. Being away from your phone is a perfect way for you to escape the stress of organising Christmas. 

 

Organising a Secret Santa to kick off your festive afternoon tea is a good way to keep things festive. There are a lot of apps out there that allow you to set a price limit on your Secret Santa, and you can decide beforehand if you are going to have some fun with joke gifts or select something more meaningful. 

 
If you are planning a festive afternoon tea in Tunbridge Wells, Salomons Estate can offer an afternoon tea service that could suit your plans. To learn more about our afternoon teas, please contact us here. Our staff will be delighted to discuss what goes into our wonderful afternoon teas.