Tally & Paul, can you tell us a little bit about your wedding and the theme?
The wedding, while traditional in structure was always going to look and feel slightly different to your average wedding as both myself and husband have a bit of an alternative background. We had 50 people to the day and traditional sit down meal, and around another 30/40 in the evening. The theme as such was a mixture of unicorns mixed with a biker rock feel, with some dinosaurs thrown in for good measure and the colour theme was GLITTER! It best represents us as people and pretty much what our house looks like. Both readings were out of the normal too being about a 'lovely dinosaur' and a biker ode, and I doubt very much any wedding party have left the venue to a remix of 'Walk the Dinosaur'.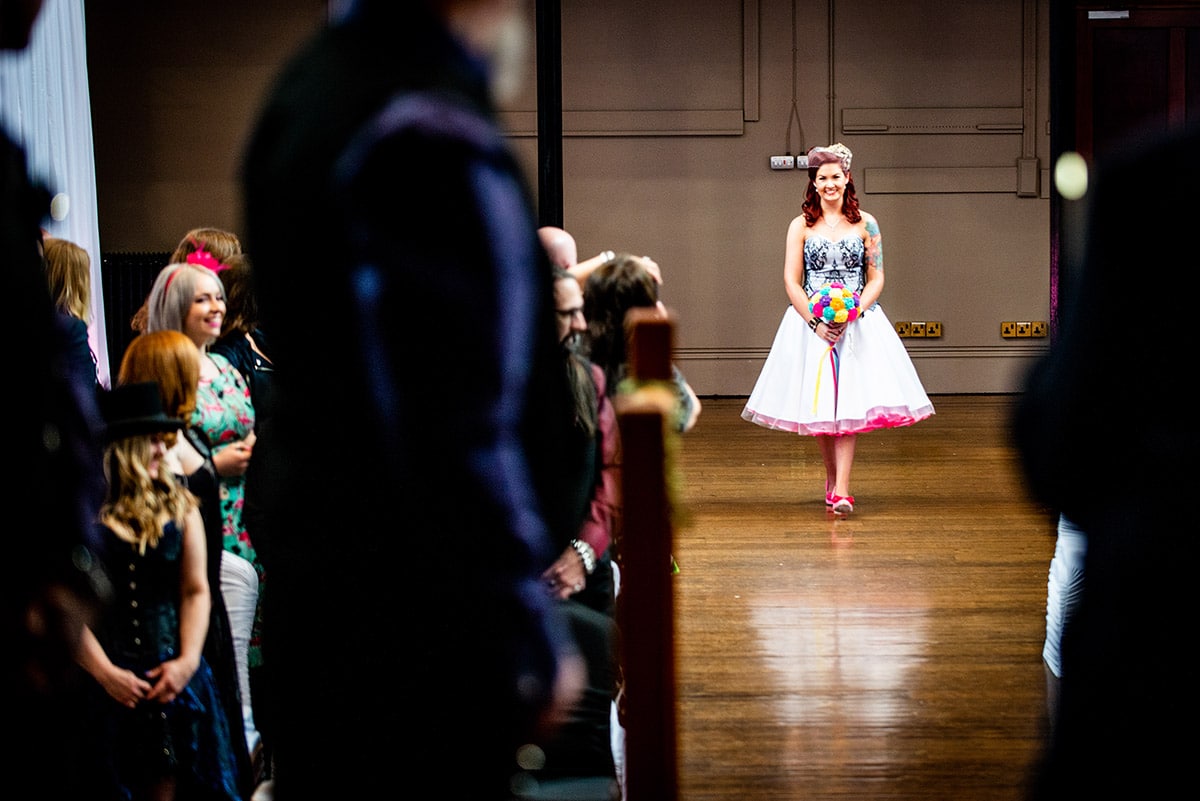 Matt Rock Photography: www.mattrockphotography.com
What was your inspiration behind the theme?
I love glitter and bright bold colours, while the husband was mainly behind the skulls, he's big into his Rock/Metal music and has DJ'd and been involved with bands for years. The dinosaur side of it came from our group of bikers who are known as Dinosaurs, and who made up a large section of the guests.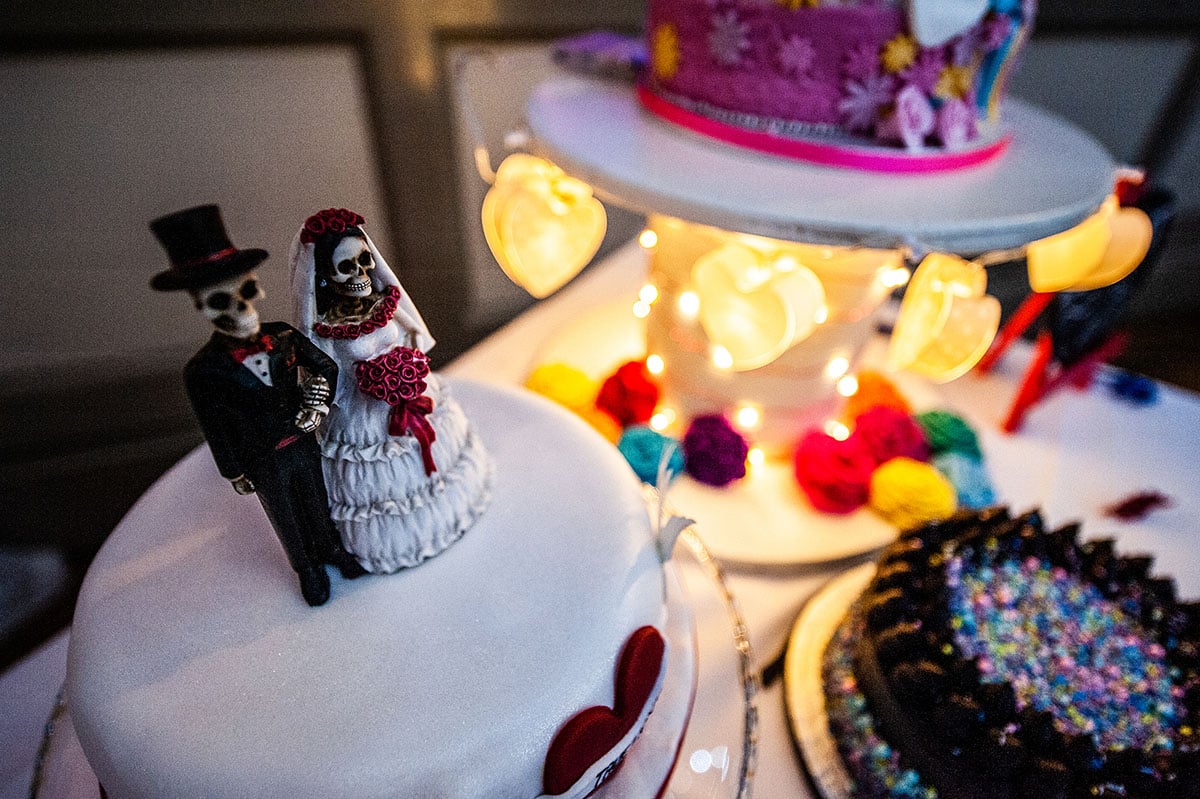 Matt Rock Photography: www.mattrockphotography.com
What were the main centre pieces/decorations on your big day?
The main centre pieces were different skulls or dinosaurs in bell jars, with hand glittered small dinosaurs scattered around them, with a silver sparkle lantern on each table. Our head table had 2 large skulls with glitter candles on and a bright pink glitter unicorn head. There was also Roy our 6 foot inflatable Dinosaur club mascot knocking around throughout the day, and who also appears in a photo we now have on display at home.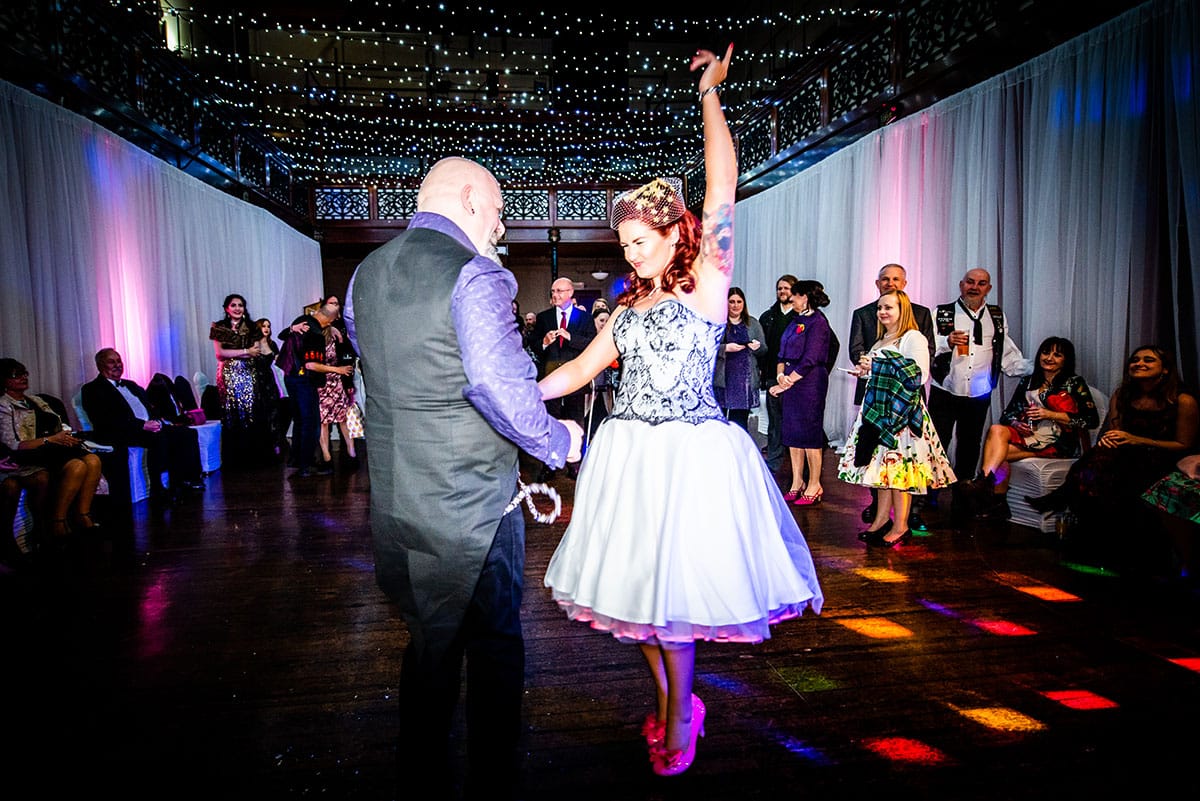 Matt Rock Photography: www.mattrockphotography.com
Who/what were your main fashion and style influences when it came to picking your outfits?
When I first started trying on wedding dresses I just didn't feel comfortable in any of them as I didn't feel like me in them so I knew pretty quickly that I was going to wear something a bit different. My Irregular Choice shoes were picked out long before I picked a dress and as I love the 50's style and dresses and wear these style of dresses for events so it was a fairly easy choice to pick a 50's style outfit and look for the day.
Paul didn't want traditional top hat and tails but still wanted to be smart but alternative. For this reason he approached Sah at www.Souhuionline.com, who he knew from his band days to make 2 bespoke tailed waistcoats for him and the best man. The idea was to look smart but still have the rock / biker side of us come through.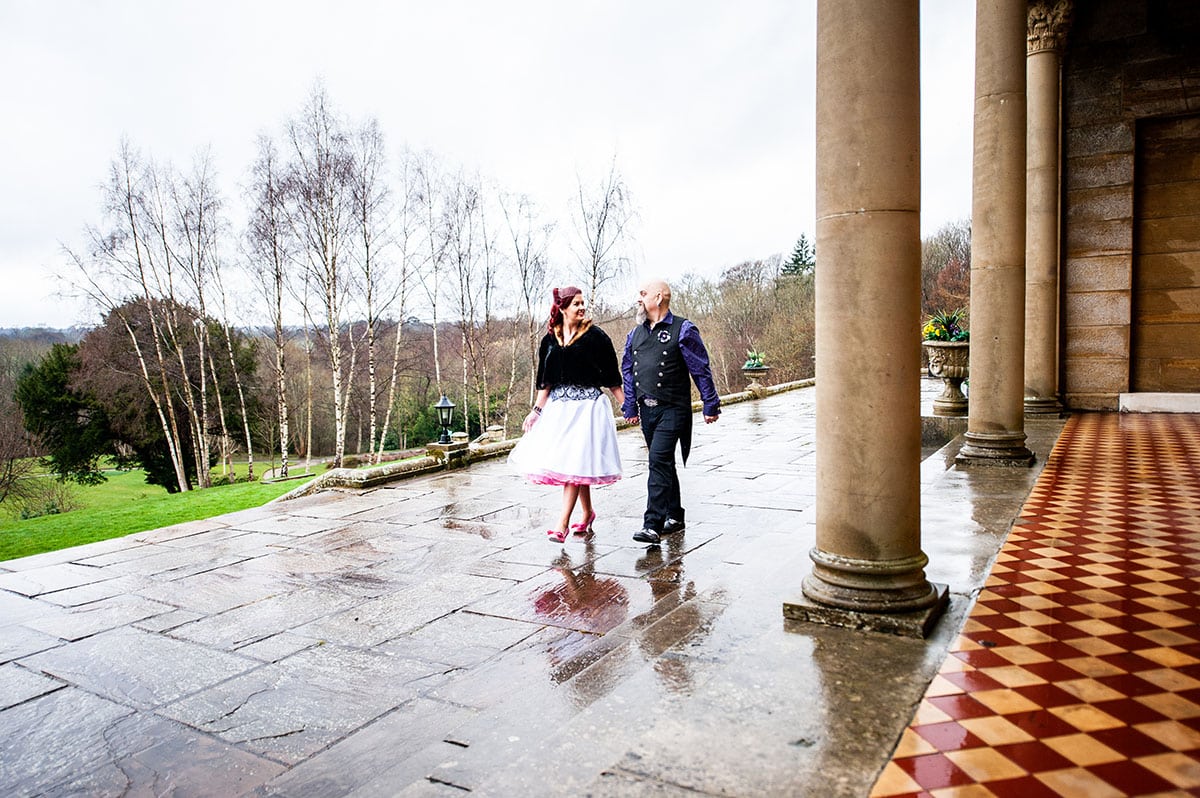 Matt Rock Photography: www.mattrockphotography.com
What made Salomons Estate the perfect venue for you both?
Without a doubt the Theatre, we both walked in and knew instantly that's where we had to get married. With my husbands background being in bands and playing on stages, small and large, it seemed fitting getting married on stage and the back drop of the Welte Organ gave it a Gothic feel.
The grounds also made for amazing backdrop for the pictures (when it stopped raining) and the added bonus of people being able to stay at the venue as we had people travelling long distances to join us.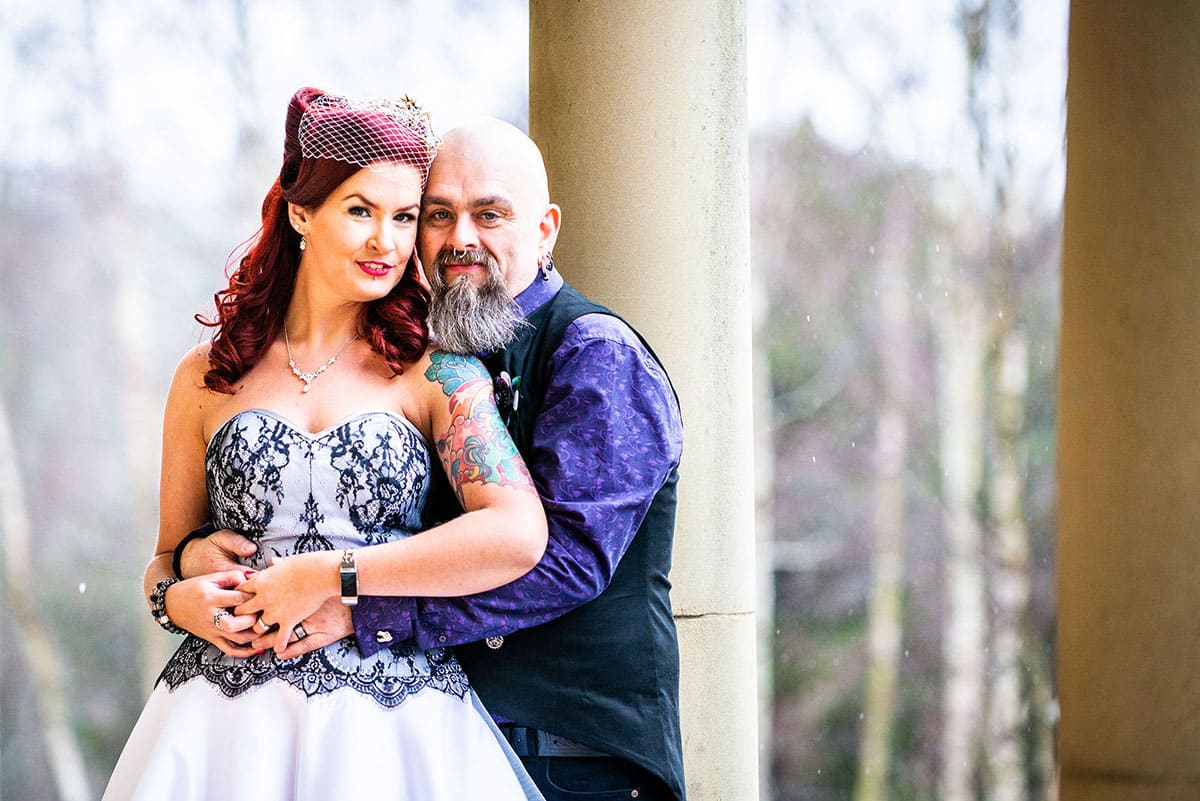 Matt Rock Photography: www.mattrockphotography.com
What advice would you offer couples that are deliberating on whether to move away from the traditional wedding theme?
Do what you want to do and don't be swayed by family, it's your day, do it your way, make it memorable to you!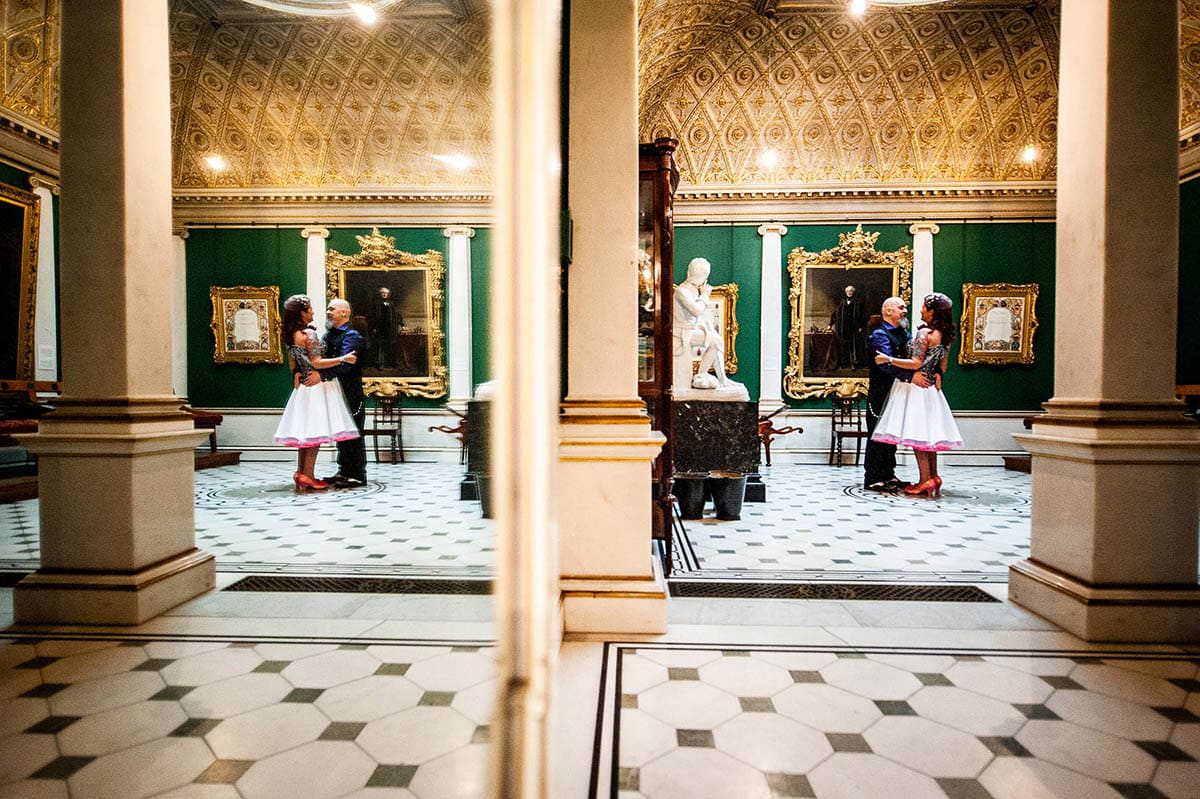 Matt Rock Photography: www.mattrockphotography.com
Why would you recommend hosting a wedding at Salomons Estate?
The team were amazing in the run up to our wedding and also on the day ensuring everything ran smoothly whilst letting us have things the way we wanted them. The venue is stunning, the food was amazing, we seriously could not fault the day!
To enquire about your special wedding day call us on 01892 621684!