What is a Vegan wedding?
A vegan wedding is a wedding that doesn't use anything made from animal products. Everything from the catering to the decorations needs to be carefully considered to ensure that the entire celebration is completely cruelty free. Whether you are a lifelong vegan or just want to try something new, there are so many new options out there that planning a wedding that is plant-based, cruelty free and sustainable is easier than ever! Here is our guide to planning your perfect vegan wedding.
The Venue
With over 600,000 vegans in the UK, wedding venues are offering more and more plant-based options, so the first thing to do is speak to your venue, to see how they can help. If they have in-house catering, see if they are happy to offer a vegan menu, or if not, see if there are any local caterers that they could suggest. If you have not chosen a wedding venue yet, 'Vegan Food and Living' or 'The Vegan Review' are great places to start looking for inspiration. It is also worth informing your guests of your decision in advance of the wedding, just to give them a heads up. Here at Salomons, We can cater for vegans and do offer vegan alternatives to our wedding menu.
Wedding Dress/ Suits
When choosing your dresses or suits for your wedding, remember that you should not use materials made from animal products, such as leather, wool or silk. Instead, look for materials such as chiffon or brocade.
You also have the option of buying your dresses and suits second-hand. This would not only count as your 'something old', but would also help to reduce the environmental impact of your wedding.
If you're wearing any jewellery, take the time to make sure that you have bought it from an ethical jeweller, to ensure that no animal or human was harmed in the process of it being made. There are many vegan-friendly jewellers online, who give you the option to buy jewellery without pearls, shells or leather.  When it comes to your wedding rings, try to use a company that uses fair-trade silver and gold, and whose diamonds have been ethically sourced.
Make-up and hair products
Regardless of whether you are hiring somebody to do your make-up, or you are doing it yourself, check that the products that are being used have not been tested on animals, or have animal by-products in them. Beeswax is one to look out for, as it is traditionally found in most lip products. If you are wearing fake-eyelashes, check to make sure that they have not been made out of mink. There are an increasing amount of cruelty-free brands that are available both online and on the high street, including: Milani, Tarte, Too Faced and Lush. The PETA website has a useful tool, which allows you to search for specific companies and products to check if they are cruelty-free or vegan.
It is also worth looking at where your make-up brushes are from. For the brushes to also be vegan they should be made out of synthetic hairs, as opposed to animal fur. Fortunately there are many vegan-friendly brush sets out there, such as Ecotools and Sigma, which can easily be ordered on online.
Wedding decorations
When you choose your decorations, always take a look at the materials that they are made from. Fresh flowers are extremely versatile. They can be used to make up the table centrepieces, to decorate your venue, and even as the flowers for your bouquet. If you are extremely green-fingered, you could even grow the flowers yourself. If that's not your style, take a look at what flowers will be in season around the date of your wedding. If you're going for a rustic aesthetic, you could use fresh fruit or vegetables to create your centrepieces. When it comes to confetti, make sure that you buy boxes that are biodegradable.
If you're allowed open flames at your venue you could use soy candles, as this will help to create a really romantic atmosphere. As these are made with soybean oil rather than animal products, these burn longer than traditional candles.
Food and Wine
If there is one in your local area, it may be easier to choose a vegan caterer, as they know the plant-based diet inside out, so will be able to easily put together a delicious menu for you. If a number of your guests are new to the vegan diet, and perhaps a bit apprehensive about vegan food, why not choose a Mediterranean themed menu? This could include pastas, curries and salads that are not only tasty, but they are likely to have tried before.
Many alcoholic drinks – including a surprising number of wines – are not vegan. This is because a number of fining agents, which are used to speed up the clarification process, are animal products, such as gelatine. Remember to check with the supplier, just in case. This will also affect your cocktail menu, as you won't be able to use ingredients like egg-whites, honey or anything with lactose. This does not mean that your wedding needs to be alcohol free – it is a celebration after all! Most lagers and beers are fine, as their brewing process is vegan-friendly. Spirits are also vegan-friendly, so you can still have a cocktail bar or reception. There are also an increasing amount of vegan wines and champagnes on the market; at Laithwaite's, they have over 150 vegan options.
If you are already a vegan, it is probably worth bringing a non-vegan friend or family to your tastings, to make sure that you are getting the opinion from somebody with a different palette. This will make sure that your catering will go down a treat with all of the guests, vegan or not.
At Salomons Estate, all of our food and drink is sourced locally by our expert in house kitchen staff. We have a variety of different menus on offer, so no matter your budget and dietary requirements, you and your guests will be left satisfied. For more information on the catering and drinks options available, give us a call.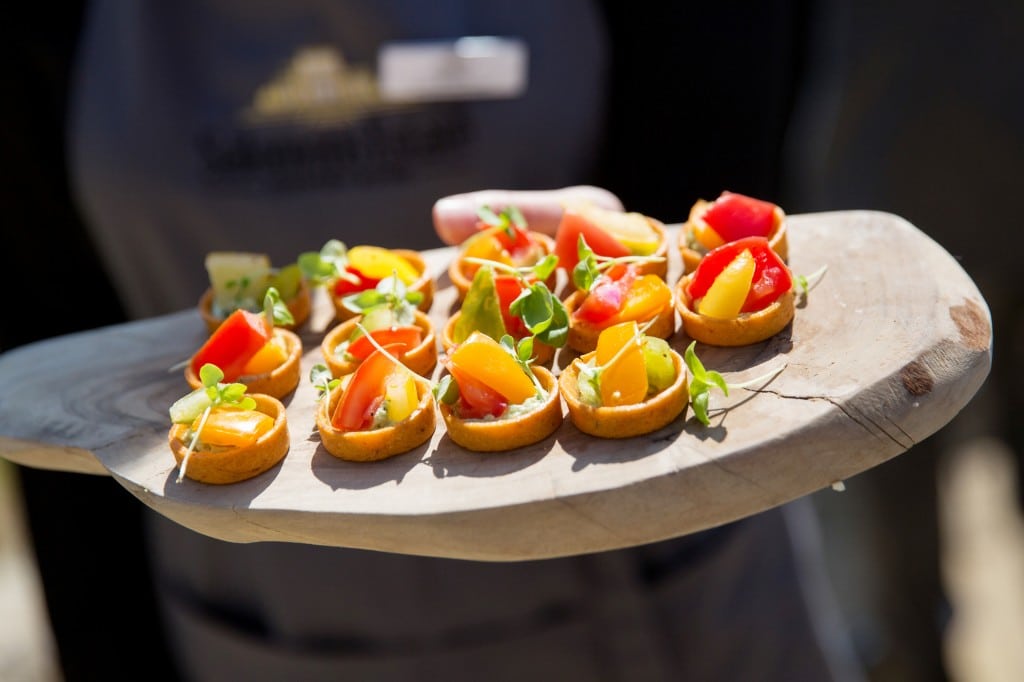 Wedding Cake
Your wedding cake is one of the centrepieces of your reception. A vegan wedding cake is simply a cake that has been made without any animal products – so no eggs or dairy. As vegetarian and vegan diets have increased in popularity, bakers now have a wealth of plant-based egg and dairy replacements to choose from. They might be lacking in animal products, but they are still moist, fluffy and packed with flavour! Why not ditch the traditional tiered cake for cupcakes? That way you can choose a multitude of flavours, meaning that everybody will go home happy.  Just make sure that you give yourself enough time to book multiple tastings, from multiple bakeries, just in case (and don't forget the more bakeries you speak to, the more cakes you get to test!)
Wedding Favours
A wedding favour is a sweet and simple way of thanking your guests for coming along to celebrate your big day. They don't have to be expensive, neither does having a vegan wedding mean that they need to be overly complicated. Here are some of our favourite suggestions.
Give them a gift that they can grow, with packets of seeds. These are a great, green wedding favour, and can be found on Etsy for as cheap as 62p!
Vegan doughnuts are always guaranteed to go down a treat, and could possibly be made by the same company who are making your cake, killing two birds with one stone!
If you're having a travel themed wedding, why not give your guests some personalised, engraved bamboo chopsticks?
Soy candles are vegan and animal friendly and will remind your guests of the romantic atmosphere they experienced at your wedding.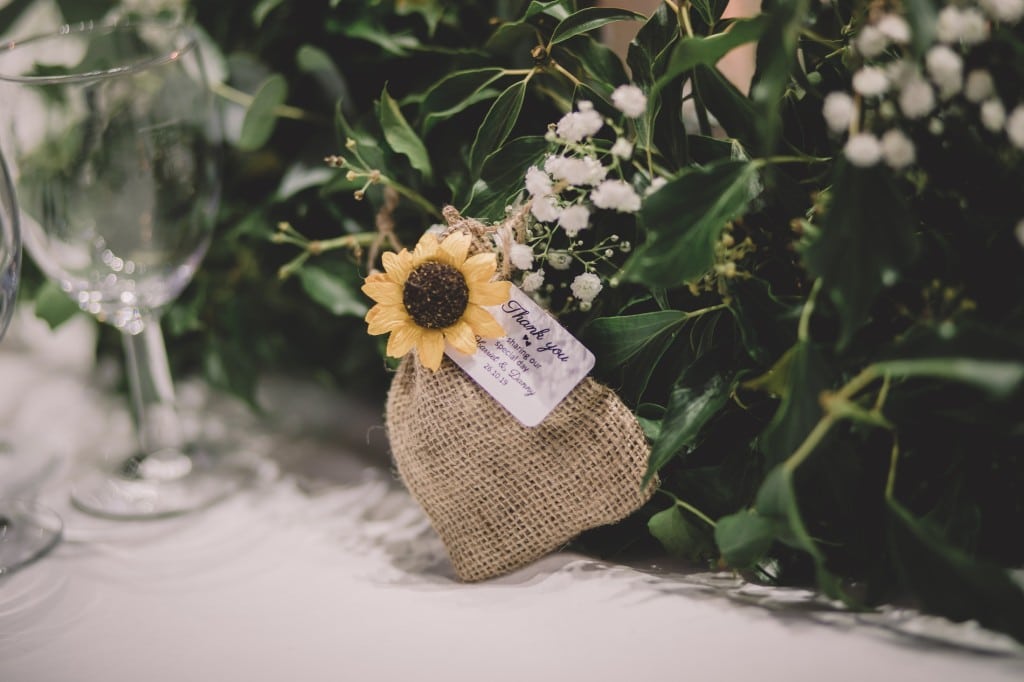 When it comes to gifts for yourself, why not ask your guests to make a donation instead? Instead of buying you something you potentially won't use, or could even buy yourself, they would be helping out a worthwhile cause.
If you are looking for the perfect wedding venue for your vegan wedding in Kent, then speak to us at Salomons. Our wedding team will be able to help, advise and if required, we can cater for vegans and do offer vegan alternatives to our menu.