The gorgeous spa town of Tunbridge Wells is nestled in the heart of the High Weald Area of Outstanding Natural Beauty. And with some of the most stunning landscape in the country, criss-crossed by a fantastic choice of footpaths, surely the best way to explore this idyllic area is on foot.
From long-distance hikes to scenic strolls and kid-friendly trails there'll be a walk around Tunbridge Wells that's perfect for you.
Whichever route you choose be sure to make a special stop for afternoon tea in Tunbridge Wells afterwards right here at the picturesque Salomons Estate.
So, slow down, look around and take a moment to appreciate a new perspective on the world with our guide to the best walks in and around the Tunbridge Wells area.
Tunbridge Wells Circular Walk
This 27 ½ mile route explores a wide variety of areas around Tunbridge Wells. A great place to start is the Tunbridge Wells Tourist Information in the historic Pantiles area of the town.
You can then pass through the stunning landscape of Southborough Common (once immortalised by artist and sculptor Henry Moore) and on to the villages of Pembury, Frant, Groombridge and Speldhurst.
Feted for its natural history, historical and architectural features there'll be something to interest everyone in your party.
Notable highpoints include:
All Saints' Church, Tudeley – this fascinating architectural gem dates back to the 11th However, its real claim to international fame lies in the 12 exquisite stained glass windows designed by the great Russian-born artist Marc Chagall. They alone are worth the effort of the walk!
Harrison's Rocks – the largest local cluster of sandstone rocks and a hub for climbers both young and old.
Groombridge Place and Gardens – a fascinating country estate and moated manor house resting on the East Sussex and Kent borders. Visit the Enchanted Forest or if you fancy walking on air, try the 250-metre long Treetops Walkway, but only if you're good with heights!
The George & Dragon – if you don't think you'll make it back in time for afternoon tea in Tunbridge Wells, then this venerable public house could be a great second best. Located in the village of Speldhurst the building began life in the 13th Century as a coaching inn before settling into its current incarnation over 200 years ago. Sit back, sup your pint and soak up the history!
The Pantiles with Georgian styled balconies stretching over restaurant seating on a sunny day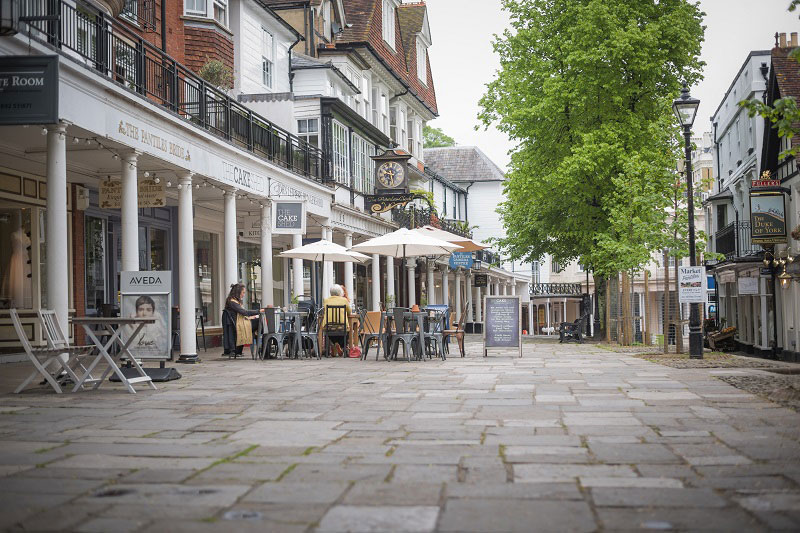 The Wealdway
Stretching for over 80 miles, this long-distance walk runs across the chalk ridges of the North and South Downs and through the Weald.
Beginning at Gravesend in Kent on the Thames Estuary it passes through Tunbridge Wells before heading down to the seaside at Eastbourne in Sussex on the English Channel.
A great option if you're visiting the area for a few weeks on holiday.
The Sussex Border Path
At 150 miles, this meandering walk is not for the faint-hearted.
It passes through unblemished countryside just to the south of Tunbridge Wells before heading to Bewl Water and Hawkhurst and then finishing on the coast in Rye.
You'll see Norman and Saxon churches, quaint English villages, windmills and more on your route.
If you're undertaking this or one of the other longer distance walks then why not download a walking app to help you record your distances? The British Heart Foundation has some great free recommendations.
Bewl Water
If you're looking for a family-friendly walk then a short 10-mile drive from town brings you to one of the outdoor gems of Kent, the stunning Bewl Water.
This sprawling countryside park boasts a scenic 12 ½ mile walking route around the largest body of open water in the South East.
Made up of a variety of forest paths, surfaced trails, country lanes and meadows, this is the perfect place for a family outing.
Particularly as it offers an additional range of both land- and water-based outdoor activities to keep all ages occupied.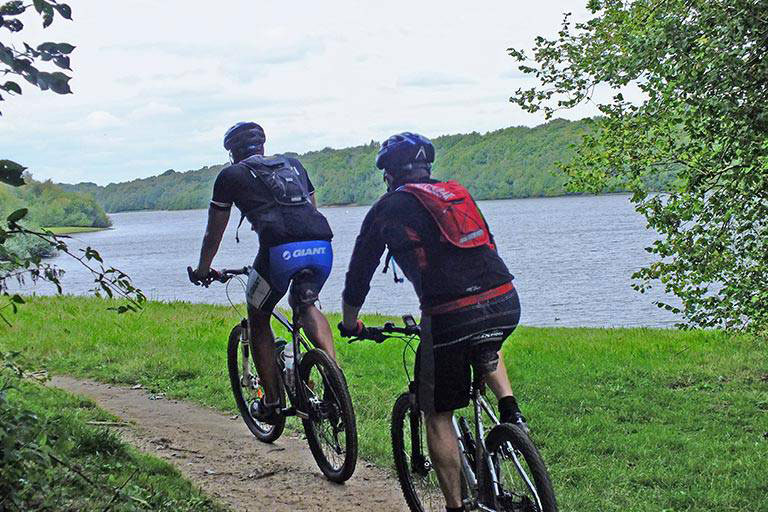 Ashdown Forest
Nature-lovers of all ages will love to walk through Ashdown Forest.
Considered to be the inspiration for Winnie the Pooh's Hundred Acre Wood, the forest is situated in an Area of Outstanding Natural Beauty and is also a Site of Special Scientific Interest as well as being a Special Protection Area and a Special Area of Conservation.
High praise indeed for this protected reserve and the ideal place to explore with children.
Tunbridge Wells Common
Only a short walk from the town centre, the Common is famous for its rocky outcrops and is the perfect place for a stroll after a sumptuous afternoon tea in Tunbridge Wells.
A haven for wildlife, look out for voles, grass snakes and even roe deer. There are birds and butterflies aplenty and the many ponds are home to a variety of amphibians.
Have hours of fun clambering on the Wellington Rocks or follow one of the numerous walking trails over the heath and through the wooded areas of the Common.
Dunorlan Park
With a great playground and café, visitors with children will enjoy exploring the many trails around this award-winning 78-acre park.
Known as one of the best in the county, this park has lots of places to explore with wide grassy slopes and magnificent views.
This landscaped beauty has historical significance and is Grade II listed with a renowned water fountain, Grecian temple and huge boating lake.

Tips for walking long distances
If you're going to take on one of the longer walks in this guide, then remember these top tips:
Include rest days in your plan
Listen to your body and take a rest if necessary
Follow a walking schedule that suits you
Never pass by a café or restaurant without stopping – you'll need the energy so treat yourself!
Get a good night's sleep
Take care of your feet
Break the route into smaller sections – take each stage one at a time
Make sure your phone is fully charged before the walk so you can use Google Maps or make a call if you need help
No walking guide to Tunbridge Wells would be complete without mentioning Salomons Estate itself!
Set in 36 acres of gardens, parkland and woods, Salomons Estate offers visitors ample opportunity to enjoy a stroll before joining us in the main house for a delicious lunch or the best afternoon tea in Tunbridge Wells.
Don't forget that we're dog friendly, too, so your four-legged friend is also welcome.
Call our team today and reserve your table.